Show rewards on phone screen
Your clients will always know current point balance. This will promote repeat sales.
Live point balance
The system will automatically track changes in the client's balance and notify him when it changes. This will appeal to your customers and boost repeat visits to your point of sale
nearby notifications 
If the Client is near one of your stores, for example, in a shopping center, he will receive a notification that he has a discount card
Marketing PUSH-notifications
Use an alternative channel for notifying customers through free PUSH notifications from Bitrix24 CRM
Point balance on card
Displaying the current balance of points on the customer's phone allows you to increase repeat sales. The client will always know how many points he has accumulated.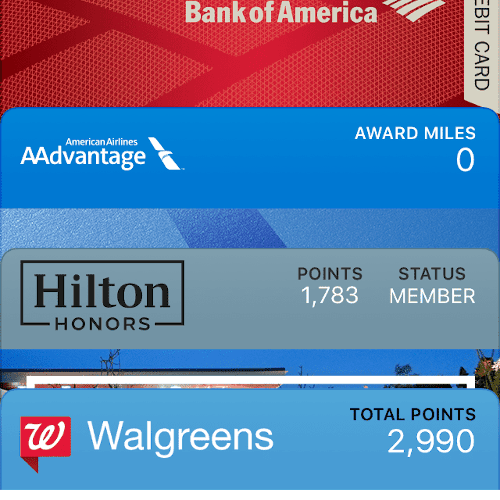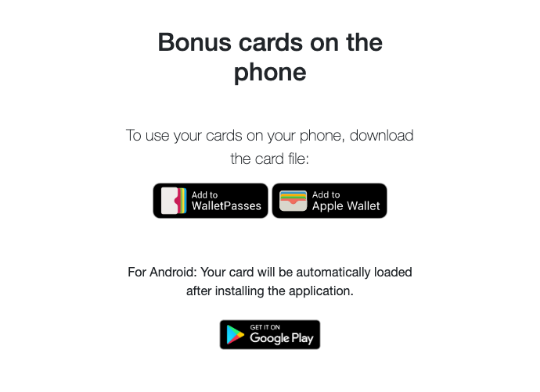 TRACKING INSTALLATION and CARD REMOVAL
The built-in function of tracking the installation and removal of the card from the phone allows you to better configure the conversion funnel in CRM and interact with the client if he does not show sufficient activity in the loyalty system
INTEGRATION INTO THE BUSINESS PROCESS
Just a few blocks and you have created a business process for issuing cards for your clients. In fact, you can set up a rather complex process that will take into account the various nuances of your loyalty program and bonus accrual. Bonus redeem can also be configured in the business process of the deal.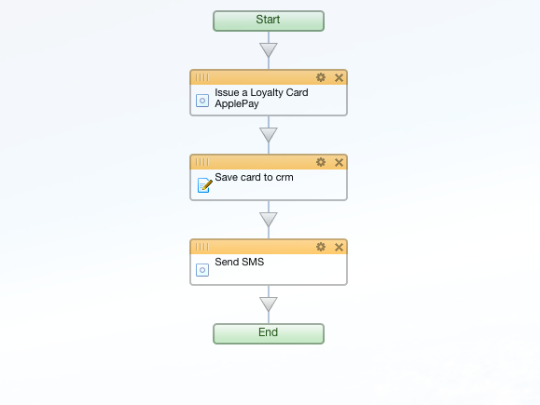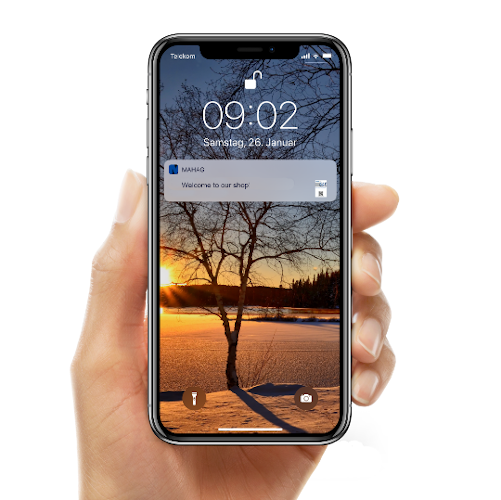 FREE PUSH-NOTIFICATIONS
Loyalty cards have the ability to send a Push notification to the customer's phone. Thus, you can easily and free of charge notify the client about marketing promotions or personal offers
SUPPORT FOR ALL KINDS OF CARDS
The application has support for all types of digital cards: 
Loyalty card 
Club card 
Coupon 
Event ticket 
Transport ticket 
Gift card 
Both ApplePay and GooglePay formats are supported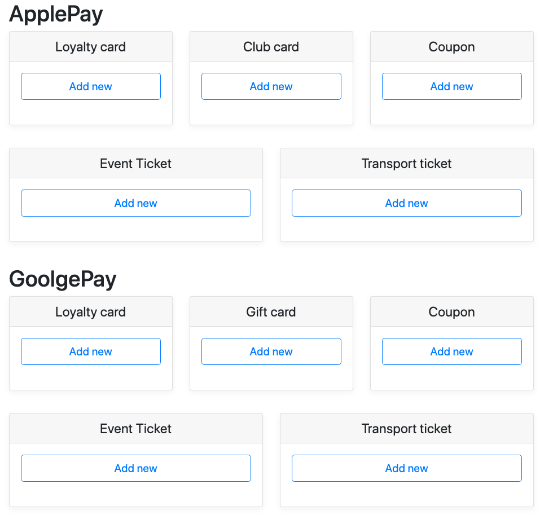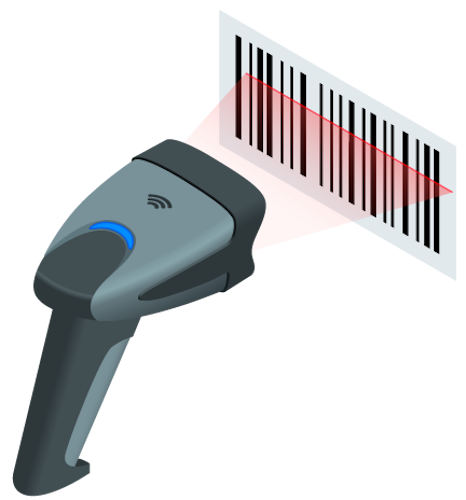 INTEGRATION WITH Barcode SCANNER
With a 2D barcode scanner, you can easily search for a customer by card barcode. This simplifies and speeds up the search, as well as redeem on bonus cards
INTEGRATION WITH 1OS.Checkout
When used in conjunction with our application 1OS.Checkout, you can quickly search and redeem points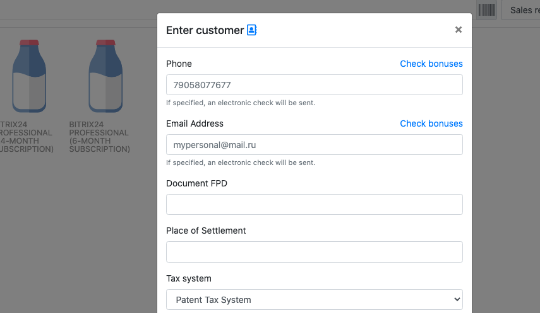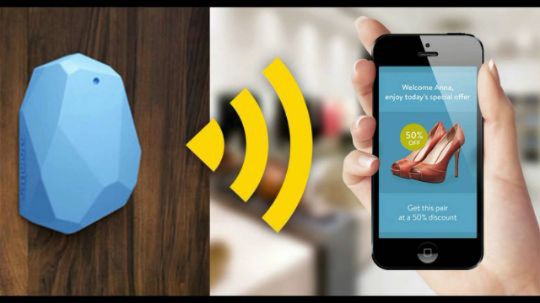 BLUETOOTH beacon INTEGRATION
Place radio beacons near your points of sale and customers will be alerted within range. 
This mechanism allows you to increase repeat sales

CONFIGURING card GEOFENCE
In addition to radio beacons, you can set up geofences where a notification will also be shown on the phone lock screen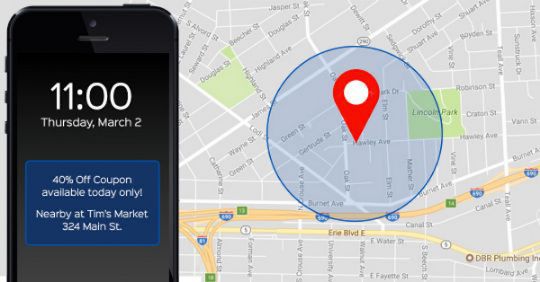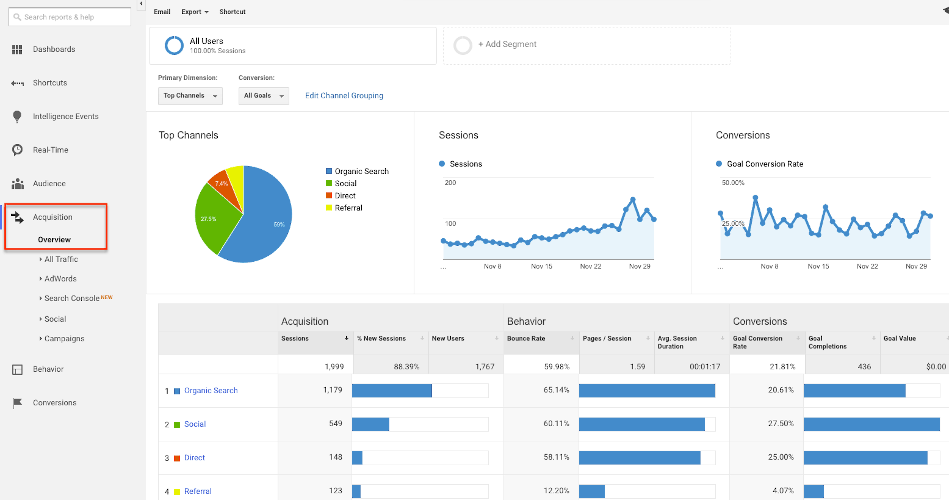 BUILT-IN ANALYTICS
The app integrates with GoogleAnalytics web analytics tools. This allows you to customize better conversion goals and provide new opportunities for your web analyst
BITRIX24 marketplace
INSTALL THE APP
Go to the Bitrix24 app directory and install our application from there
INITIAL INSTALLATION
DOWNLOAD BP DEMO
After installation from the catalog, you will be prompted to install a demo of business processes. This is a simple example of what your loyalty system in Bitrix24 might look like
DESIGN CARDS
SET UP THE card
Personalize the card design for your business. There are many types of cards and design options available. Card designer makes customization easy
TEST
Done
Now your loyalty system is ready to test and use. Demo processes will create a card and send it to the client via SMS, and when the transaction is completed, they will add 5% bonuses to the card. The client will immediately receive a notification about this on the phone
WALLET APP
Wallet technology for IOS (Apple) and Android phones allows you to save loyalty cards, coupons, boarding passes, tickets in an application on your smartphone, so that you can later present them for control in stores, cinemas, airports, hotels. 
We use Wallet technology as an alternative to traditional plastic loyalty cards to identify a customer in a store. What other advantages does the company get when issuing electronic cards using Wallet technology?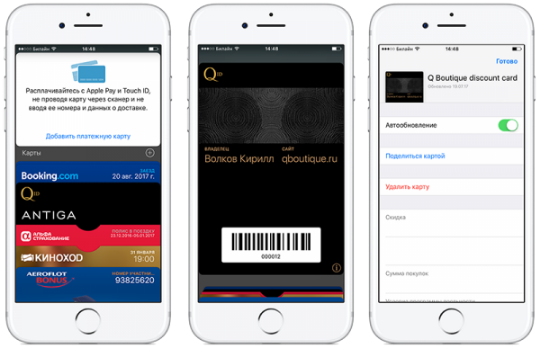 The card layout can be easily customized
You can choose the color of the background, text, headers, place a logo, additional graphic elements. But the main thing is that you can place any information fields on the card, for example, display the client's first and last name, the current discount percentage, the accumulated amount of purchases, a link to your website or mobile application, current store addresses, conditions of the loyalty program, etc.
Card layout - updatable
For example, during a sale, you can repaint a card in a bright color and update its appearance for all owners, and at the same time notify them of the update using a PUSH notification
The app supports geo-targeting
This allows you to send PUSH notifications to cardholders when they are near your store
You control the status of your loyalty card or coupon in the app
If the buyer removes it, then you will know about it. You can also monitor in real time the number of installed cards on devices and the state of the "Auto-update card" switch
Push notifications
Using a little trick, by updating the card, you can send free Push messages instead of SMS for free
As you've probably figured out by now, Wallet is a full-fledged mobile app with many useful features. But, unlike regular mobile offers, it has one important advantage - Wallet is preinstalled on any modern Apple phone (on older operating systems it is called Passbook). In addition, Wallet is a component of the rapidly developing Apple Pay technology - users add bank cards to this application.
According to statistics, mobile applications of commercial companies are installed by no more than 10% of their customers, the statistics of Wallet card installations through the Extrovert CCAA system is 29%, which is almost three times more. If you're still considering building a mobile app for your retail chain, consider these numbers!
Let's tell you more about installing the card in the phone.
The card is actually an archive that must be downloaded by the user and processed by the operating system on the phone / tablet or laptop. In order to install the card, you need to download it in one of 2 ways:
by clicking on the link in SMS or Email
by scanning the QR code
Our system, at the moment, supports sending a link to download a card via SMS or Email, as this method is the most popular among users.
After clicking on the link, the card is downloaded and opened on the phone screen. The user clicks the "Install" button and it is added to the Wallet application (owners of Android phones need to install the free WalletPasses application or analogs).
More about wallet cards
Any Wallet card has a front and back side. The front side usually contains the owner's full name, logo and barcode. Barcode can be generated using one of several encodings, we prefer to work with PDF417.
In the lower right corner of the card there is an icon (i), if you click on it, you will see the back side.

On the back of the card there is always an "Auto-update" switch, which is enabled by default, which allows us to update the layout of the cards and notify its owners about it. There is also the option "Share card" and "Remove card".
Not all business owners like the Share Card option. Indeed, it does not seem like a good opportunity when the holders of the maximum discounts can send a copy of the card to all their friends, which is likely to adversely affect the retail network's revenue. These problems can be eliminated by adding SMS authorization to the VIP client identification procedure. In this case, upon presentation of a card with a large discount percentage, an SMS code is sent to the phone that was indicated when it was issued, and only entering this code makes it possible to authorize the discount. Another possibility is to ask for a document, because on the card we display the Name and Surname. Although, in most cases, the problem of copying cards does not have serious grounds for concern, after all, it is easy to transfer a plastic card to your friends if you wish. Uncontrolled discounts pose a much greater threat when sellers are given the opportunity to find a customer in the database by name or phone number and thus set a discount. We often see this when important customers "forget" their cards, but sellers don't want to lose sales. Using Wallet and SMS authorization allows you to completely eliminate these problems.
As we have already mentioned, almost any information that the company wants to convey to its client can be displayed on the back of the card.
Wallet-based digital cards will inevitably replace their plastic counterparts, just as electric cars will 100% replace their petrol and diesel counterparts. You can only debate about the timing. This crowding out will occur faster in the premium segment, which is already characterized by a large proportion of smartphone users who have the opportunity to experience the convenience of Wallet technology with such services as booking.com, Aeroflot, Alfa Insurance, etc. We will risk making a forecast that there will be no plastic cards left by 2025.
If you are the owner of a retail business, then hurry to have time to jump on the last train.